New Sako web site 2015!
Watch the video "Demand perfection"
and leave a message about your opinion!

Do you like Sako? Let's us know!
Please fill in the form on the right to receive more information

<The film "Demand Perfection" depicts how Sako's products ultimately area
combination of advanced technology and traditional gunsmith craftsmanship.

Our culture is deeply rooted in the toughness of the Nordic nature.
Overcoming these harsh conditions has always demanded perfection
in every detail.

What we do is more than a profession.

Attention to detail is in our nature!>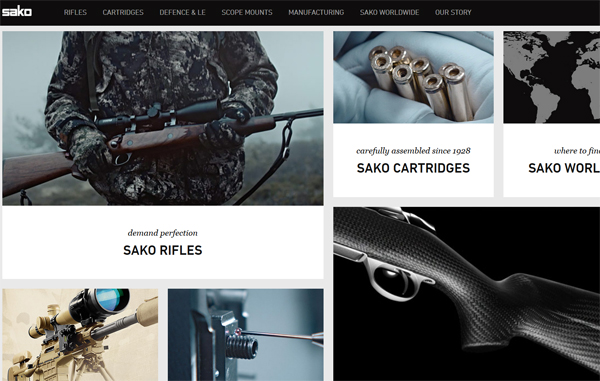 BERETTA HOLDING GROUP
At the turn of the millennium, Sako was honored to become a member of the Beretta Group, which gave access to new and advanced production methods enabling us to continuously refine our product development. In addition to rifles, Sako produces centerfire cartridges. We make more than 100 different loads in 35 popular calibers for different targets and hunting purposes. Making both rifles and cartridges is a matter of pride for Sako. Our mission remains to offer our customers the very best in accuracy and performance.
You can also find more information on our Beretta Corporate web site Beretta.com/en
Your privacy and the security of your personal information is our highest priority.
*Italy: Pursuant to article 23 of Decree law 2003 (published in the Official Gazette no. 174 of 29 July 2003 - Supplement no. 123) and subsequent amendments. **Finland customers: Data Controller referred to in the Privacy Policy corresponding to the home page of the Fabbrica 'Armi Pietro Beretta and Sako