BERETTA 3 YEARS Warranty!
1. step: Fill the form to register your BerettaProduct

2. step: to get 3 years warranty on your product upload your receipt

MORE SERVICES AT GMK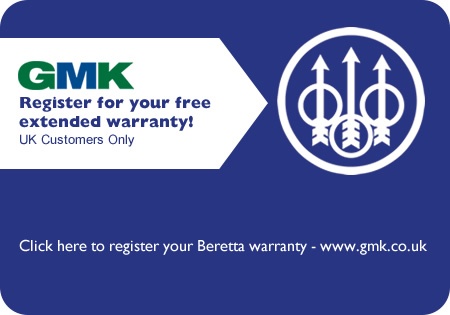 FAQ
1. What is the Beretta product registration?
The product registration offered by Beretta requires completing an online form that requires the entry of personal data and the serial number of your Beretta firearm. The accuracy of this information is validated in real time via a direct connection to our database.

2. I have already registered my Beretta product on the local authorized distributor website. Should I register also on Beretta.com?
If you have already registered your Beretta firearm on your Local distributor website, you are not required to re-register on Beretta.com. However, by doing so, you will have access to exclusive content and benefits, available only to the Beretta community.
3. What are the advantages of registering my Beretta firearm?
In addition to ensuring access to content and exclusive benefits reserved to our community, the online activation allows you to check the accuracy of the serial number etched on your Beretta, an important step to ensure counterfeiting prevention.
4. Can I register a second-hand (used) Beretta firearm?
Yes it is possible! The product registration offered by Beretta is available also for old firearms, but of course for the warranty you have to be compliant with the terms and condition published at this link:
http://www.beretta.com/en/garanzia-del-fabbricante/
Your privacy and the security of your personal information is our highest priority.
*Italy: Information under art. 13 of Italian Privacy law no. 196 of 30th June 2003, "Personal Data Protection Act" (hereinafter referred to as "Act") and subsequent amendments. **European customers ( FR and Uk customers): Data Controller referred to in the Privacy Policy corresponding to the home page of the Fabbrica 'Armi Pietro Beretta and GMK LTD and Humbert
---------------------------

Claim your free extended Beretta warranty - UK Only

* All extended warranty registrations must be made within 30 days of purchasing your new gun. Terms and conditions apply.

A standard one year warranty is provided with all new, GMK imported, Beretta shotguns. However, you can extend this warranty to three years free of charge, simply complete the Warranty Registration form. In addition, GMK offers a ten year warranty for a one-off payment of £50.

Please Contact Us to request a registration card.
Beretta 10 Year Warranty*

You can register your 10 year warranty via www.gmk.co.uk.
3 Year Warranty*
To claim for your three year extended warranty, simply complete the Warranty Registration form